The apartments at the Brucklyn Hotel are furnished with custom built-in furniture and offer a fully equipped fitted kitchen as well as an exclusive bathroom and balcony.
As a guest at Brucklyn Hotels, you can choose from a wide range of different services. Many of them are, of course, included: breakfast, gym, billiards, foosball, pool and sauna are yours to enjoy at any time.
As an additional option, we can also organize a laundry and cleaning service, or a parking space in our exclusive parking garage.
Perfect location in the best company
Your hotel is located in the Brucklyn Quarter in Erlangen-Bruck. You benefit from optimal transport connections, many shopping opportunities in the Erlangen Arcaden and great neighborhoods of Erlangen.
San-Carlos-Straße 4
91058 Erlangen
Germany
Main station: 6 min
Erlangen Arcaden: 9 min
Exhibition center: 20 min
Siemens Campus: 3 min
Framatome: 3 min
S-Bahn station: 5 minutes walk
Bus stop: 2 minutes walk
Strategically distributed automatic dispensers throughout the house, with disinfectant are standard with us. Put your hand on it!
A thermal imaging camera at the entrance of the hotel detects people with elevated body temperature in real time and immediately alerts visually and acoustically when a certain temperature is exceeded.
Self-supporter within walking distance
In your hotel you can be completely self-sufficient, with Tegut … and your own kitchen can also manage a quarantine if necessary.
Our apartments are intensively cleaned and additionally disinfected by means of a bactacleen cold fog machine. In this way we guarantee that our guests move into a completely clean room.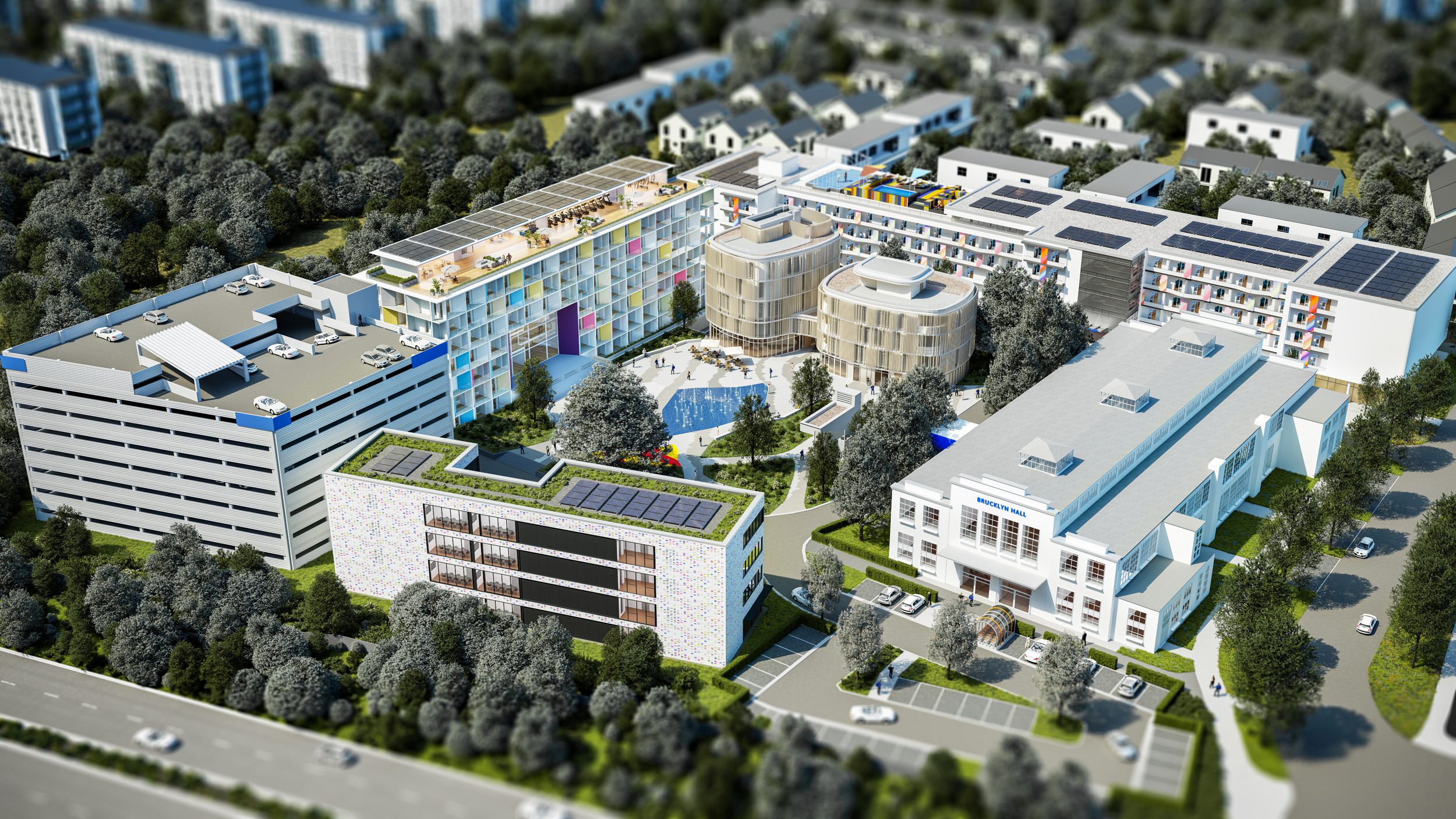 a new, unique work-lifestyle concept in the Erlangen-Bruck district. For people who make high demands on themselves and equally on their life, living and work. This includes inspiring living, working and community spaces in premium quality and good design, a high service level of accompanying services for private life and on-the-job, a high degree of networking among each other, short distances and flexible mobility. And of course a serious sustainability concept.
In the Brucklyn Quarter, ecology, economy and quality of life are optimally combined. State-of-the-art technologies combined with innovative strategies. The area is almost CO2-neutral and energy is generated from an intelligent network of heating, cooling and electricity. Among other things, the potential of combined heat and power plants, concrete core activation, geothermal energy and photovoltaic systems is exploited. Mobility is also consistently integrated into the overall energy concept in the course of the so-called cross-sectoral.
A load of environmental protection
In the multi-storey car park of the Brucklyn Quarter, there are a total of two parking spaces with integrated electric charging stations. These are located on parking level 2.
The chargers have two Type 2 sockets and transmit up to 22 kW per connection. Now that's an invitation to charge up.
Frequently asked questions
Enjoy your stylish stay in our apartments.